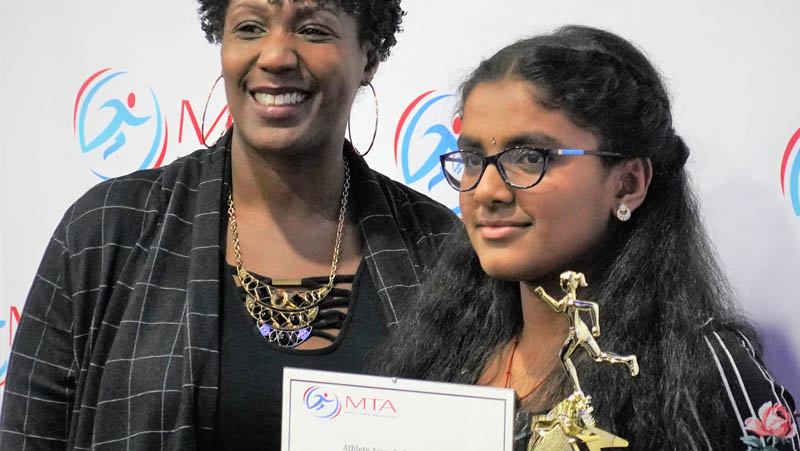 The MTA celebrated the success of its athletes and coaches at the annual Rick Westwood Athlete of Excellence Awards Banquet on Saturday, February 29th.
The award recognizes some of the best MTA athletes across all age groups including several of our recently graduated Senior athletes.
Athletes are nominated by MTA coaches and selected by an Awards Committee made up of MTA Board members.
This year, the MTA recognized the following exceptional athletes:
Girls

Peewee
Kailey Malcolm-Sewell

Mite
Penelope Dodds
Regine Ferguson

Tyke
Freja Kulakowsky
Alexia Jones
Nyla Joseph-Clarke

Atom
Shadae Thompson
Tyashia Monah
Jenna Higgs
Kaley Pratt

MTA Sr.
Caitlyn Thompson
Amelia Dodds
Stephanie Dundas
Robyn Larkan
Maddie Spadzinski
Kaitlyn Koyanagi
Asia Phillips
Ava Neumann
Kiara Webb
Elakkiyah Krisnagopal
Hasveena Arulrajan
Raeanne Jones
Elise Sawyer
Boys

Peewee
Nathan Jeyanathan

Mite
Kabir Chehal
Jelani Watson

Tyke
Brand Wolford
Anthony Phinn
Will Bingleman
Theodore France

Atom
Ben Ottey
Joshua Nwankwo
Sayanthan Arulrajan
Nahshon Hall
Aakaash Prabu

MTA Sr.
Carson Gauthier
Andrew Monteith
Owen Parkes
Alexander Fonseca
Sebastien Fonseca
Isaish Luke
Darin Watson
Arwin Mathi
Banujan Kulainthiran
Sanojan Jeyakumar
Erik Unger
Anderson Cummins